About Us
Custom CMS Block
Custom CMS block displayed at the left sidebar on the Catalog Page. Put your own content here: text, html, images, media... whatever you like.
There are many similar sample content placeholders across the store.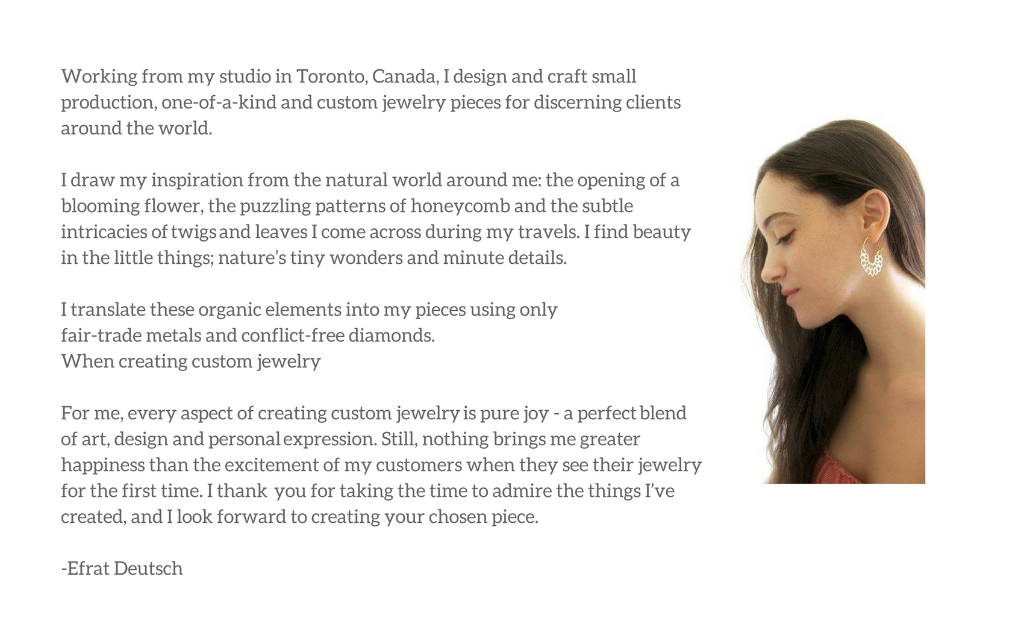 Working from my studio in Toronto, Canada, I design and craft small production, one-of-a-kind and custom jewelry pieces for discerning clients around the world.
I draw my inspiration from the natural world around me: the opening of a blooming flower, the puzzling patterns of honeycomb and the subtle intricacies of twigs and leaves I come across during my travels. I find beauty in the little things; nature's tiny wonders and minute details.
translate these organic elements into my pieces using only fair-trade metals and conflict-free diamonds. When creating custom jewelry
For me, every aspect of creating custom jewelry is pure joy - a perfect blend of art, design and personal expression. Still, nothing brings me greater happiness than the excitement of my customers when they see their jewelry for the first time. I thank you for taking the time to admire the things I've created, and I look forward to creating your chosen piece.
-Efrat Deutsch